Will China Surrender On Trade War In 2021?
Will China surrender in the trade war? Well, that is a question that a lot of people are asking themselves these days. We can see a halt in the trade war but this is not possible.
China has been manipulating its currency for decades and this is not good for America at all. But China keeps doing this at all costs, and things must change as soon as possible. China and America are the most powerful economies in the world and they need to stop the war.
The problem is that China should surrender and they do not do that. We will let you know about some reasons why China should give in as soon as possible. We will give you a lot of details about it so you can see for yourself why China will lose the trade war if they do not do the right things.
Reactions
China cannot match the fact that they do not import from the USA as much as the USA imports from them. The reality is that the Trump administration has imposed $550 billion in tariffs from any import from the Asian Dragon.
China simply will lose this war because they only export $178 billion in goods from America. They are also making the yuan weaker, and this is affecting a lot of China's European partners on trade. This is a serious problem for China because Trump is imposing tariffs on industrial supplies that American buys from China.
This is Serious
Trump is serious about winning the trade war with China. China is using profit margin squeezes and cost-cutting to keep its industry working. The problem for China could be worse if Trump decides to raise the bar and use his threat of using putting 25% tariffs on Chinese goods.
The Chinese government does not want to appear as a weak bear so they are playing with appearances these days. The Chinese are dealing with negative blows to their currency, and this is not good for them.
Manipulators
The reality is that the Chinese government is manipulating the yuan. This is not good for them, and they deserve to lose the trade war because of this. They just want to make the yuan an important global currency, but they do not what to do to achieve this goal.
The Chinese government does not know how to deal with the values of its currency. Their current must reflect the value that the markets give it, but they are not allowing this to happen at all, and they deserve to give in as soon as possible.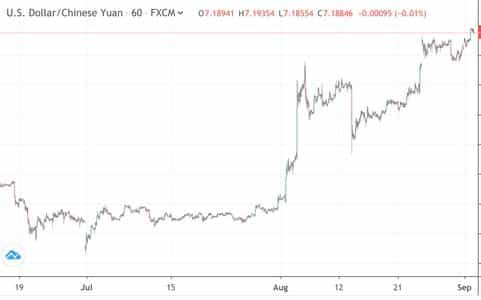 Capital Flight
China is poised to lose because they cannot stand a weak yuan. This will cause a lot of capital outflows that they simply do not have a way to fight. The Chinese central bank had to use around $1 trillion of its currency reserves so they could fight a capital outflow as soon as possible.
Three Questions
What do you think China should do: give in or fight?
What can China do to truly win the trade war?
Will the Chinese government stop its currency manipulation scheme?
As you can see, China will lose the trade war. They are harming their economy and manipulating their currency. We cannot stress this fact enough.
China has a trade surplus with America. They are using this advantage to manipulate the yuan to their advantage. Well, they are fighting and showing the world that they can also fight against America. China should stop its currency manipulation scheme or suffer the consequences of its bad actions as soon as possible.
The Chinese are America's bankers and they might try to kill the American economy somehow by taking advantage of this fact. Bu the problem is that they depend on the American economy for them to sell their goods, and they will lose the trade war if they do not give in after all. We are not fortunetellers at all but this is what seems to be the future of China.